Updated by James Langmaid
New Feature Release - January 2022
Shipment Optimisation
Shipments are now available in Stop Optimisation, allowing users to optimise the pickup and delivery stops in a Shipment. This new feature can be used in conjunction with the Optimisation of stops.
Stop Offers
Unassigned jobs can now be offered to drivers based on their distance from the stop.
The app can look at the nearest driver to the stop or select randomly.
This can be configured in Team > Settings > General Settings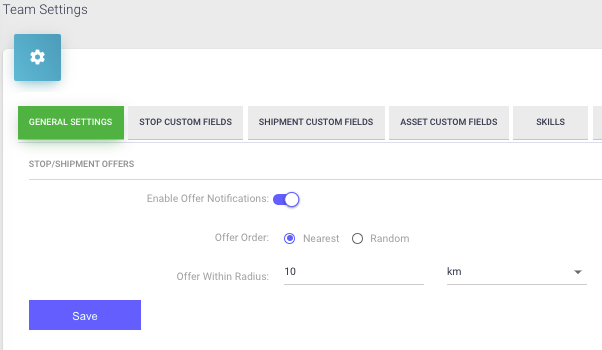 This feature can also be toggled on or off against each team member
The option can be found in the team member profile under the bio

Notifications for Locate2u need to be enable on the Team Member's phone in order for the to receive the offer.
Low Customer Feedback Email Alerts
Team Managers will now receive an email alert when the driver feedback score for a stop is 2 stars or lower. This allows you to get in contact with your customer quickly and resolve any issues as they arise.
If you have any questions or feedback, please contact us at support@locate2u.com.